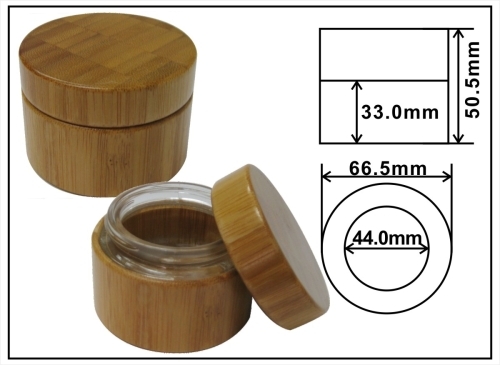 natural package bamboo cream jar 50ml Bamboo jar outer bamboo with glass inner jar Admin Edit
50ml Bamboo jar

Specifications
Item No.: SB113
MOQ: 3000 pcs
Net mass:50 ml
Carbonized bamboo color


its my hornor to introduce you my company to you, SGF Packaging Co.,Ltd. . our main products including bamboo and plastic lipstick tube, eyeliner bottle, mascara and lip-gloss,eyeshadowcase, powder case, cream bottle, nail polish cap and so on. Our latest products bamboo series are natural, Environment-friendly, unique and elegant. Our goal is not only beautiful but also health. Health for us and health for the Earth.

We call that "Green Package" which means can be recycled and will not pollute our environment. It can make our life closer to the nature, more environmental-friendly and make cosmetic packaging design diverse.It is a new technological revolution of the cosmetic container industry.
Whether you are creating your business of cosmetics containers or looking for the
container for your professional line of cosmetics, please kindly visit us.
If you have any question plz contact us freely, thanks alot !